Results of 2023 admission campaign prove that Ukrainian universities and colleges are still being widely used to dodge drafting. According to NGL.media estimate, last year around 85,000 able-bodied men used a possibility to receive a deferment, and this year we are talking somewhere around 110,000 men.
Open data analysed by NGL.media show that the share of men among first year students in 2023 increased to 70%, and their average age increased to 27 years. The most striking increase in numbers of male students is observed in 30+ and 40+ age categories.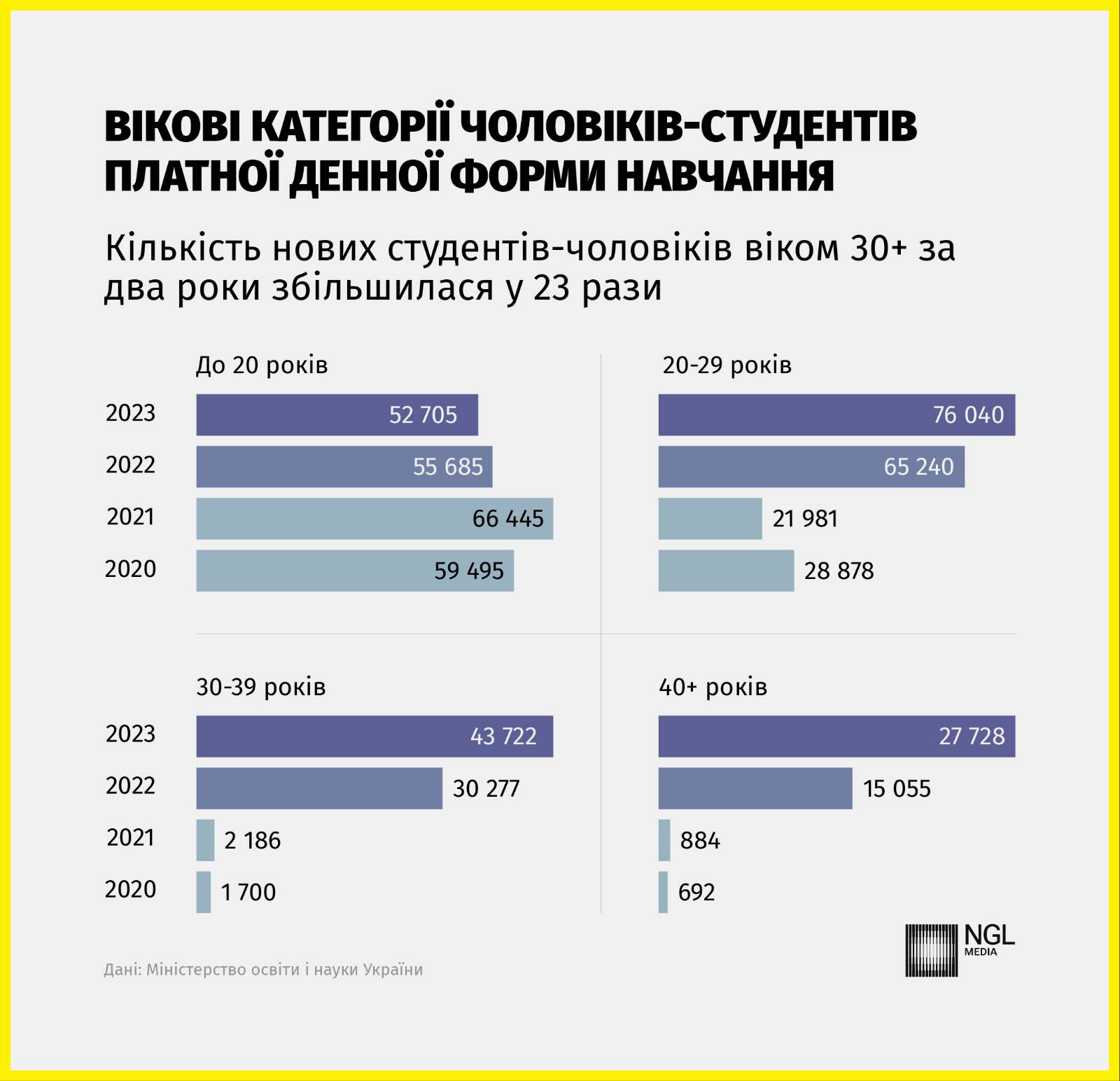 The reasons for this gender and age disbalance are obvious – like the year before, the status of a student guarantees deferment from the military draft during the martial law period. Despite the fact that an average tuition fee in Ukrainian universities and colleges increased to 23,7000 hryvnias, the enrolment procedure to become a fee-paying student remained simplified. A simple interview or a motivational letter would suffice for some specialities.
Another reason for that is an additional income for educational institutions. Judging from the average tuition fee and the number of applicants, Ukrainian universities and colleges received over 2.6 billion hryvnias this year solely at the expense of men who are a far cry from a student-age population. Last year this additional income amounted to 1.7 billion hryvnias.
Ukrainian State University of Railway Transport in Kharkiv became an absolute leader, enrolling 20 times more fee-paying first year male students compared to the pre-war 2021 і in absolute figures the situation looks as follows: 2021 – 102 persons; 2022 – 957 persons; 2023 – 2033 persons .
You will find detailed comparative database of all Ukrainian universities and colleges і taken into account were all universities and colleges which had at least 100 first year students of both sexes, state-funded and fee-paying students based on the statistics of the Ministry of Education and Science.
The government sees no problem in the universities substantially uncontrollably increasing numbers of fee-paying students, whose readiness to pay is the only condition for their enrolment.
There are certain limitation in the number of fee-paying students, but in the pre-war period even most popular universities weren't able to use more than 20% of their quota і licensed numbers of specialists training for each Ukrainian university and college were approved by the Ministry of Education back in 2006-2008 an haven't been revised since then . That's why the surge in the number of fee-paying students in 2022-2023 actually fits within the limits established over 15 years ago. However, we can't rule out the possibility of certain universities and colleges exceeding them.
Simply reducing the existing quotas for fee-paying students to acceptable numbers and introduce at least some minimal selection of fee-paying candidates through testing or examinations would be enough to make such misuse impossible. However, since April 2023 when the mass proportion of using higher education to dodge drafting became obvious, the Ministry of Education didn't do a thing.
Instead, politicians who couldn't omit this situation came up with initiatives. At present four draft law have been registered in Verkhovna Rada. However, each of these suggests battling the problem by limiting the rights of potential students themselves, regardless of the fact that even in peaceful time several thousand Ukrainians above student age would enter universities every year.
Now they can be denied this opportunity. For instance, most heatedly discussed draft law by "Servant of People" deputies Mariana Bezuhla and Fedir Venislavskyi envisages cancellation of deferment from the military draft for men of thirty and up who decided to get another degree.
This draft law has been submitted to the parliament back on September 5, but it's not proceeding – maybe because it received negative feedback from the Chief Scientific Expert Department and Euro integration committee.
The main complaint against Bezuhla-Venislavskyi draft law is age discrimination. In case the law is passed, tens of thousands of men can come within its provisions. According to NGL.media analysis, the total of 71,000 men over 39 enrolled as fee-paying full-time students, and almost 23,000 of those chose the same or lower educational degree as they already had.
Alternative draft laws (1, 2, 3) are no better. While avoiding age discrimination, they generally limit the right to get a second degree of equal or lower level or simply offer tuition-free education in case a fee-paying student willingly agrees to join the army.

---
Find your university

---
This material was prepared with the financial support from National Endowment for Democracy. The publication contents is a sole responsibility of the editorial team and does not reflect the views of National Endowment for Democracy.
The editorial team expresses their gratitude to the Strategic Media Support Program project implemented by Lviv Media Forum supported by NED, for the equipment the project purchased for our Big Data department.